Bluenose Classic - Long Lake
October 21st 2023 11:00am
Course Maps
Beginner Group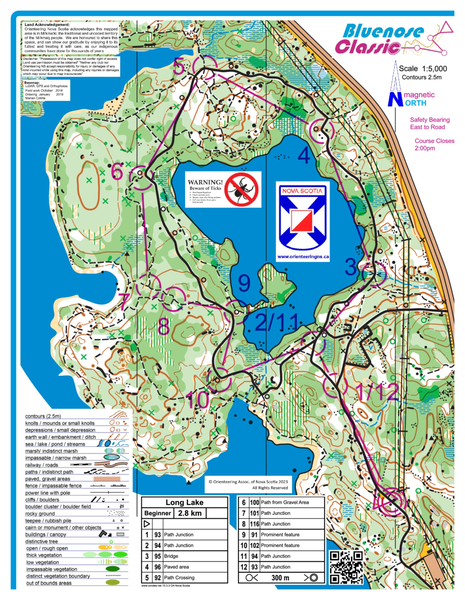 Novice Group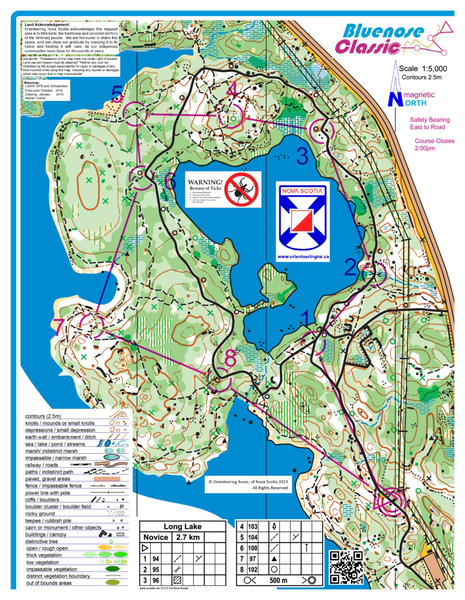 Intermediate Group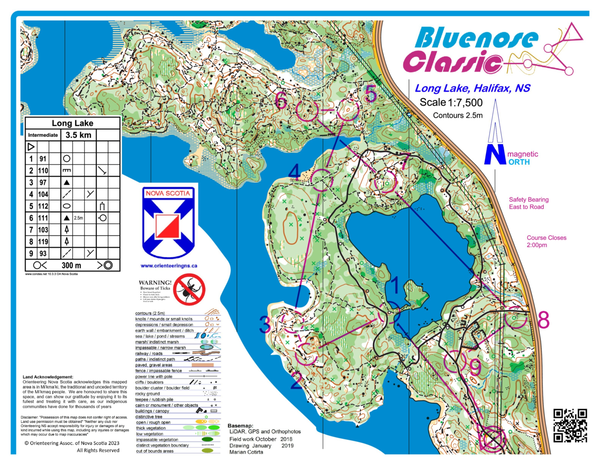 Advanced Group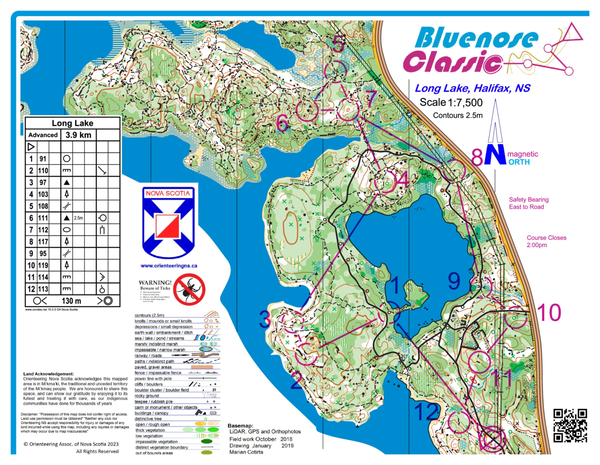 Expert/Elite Group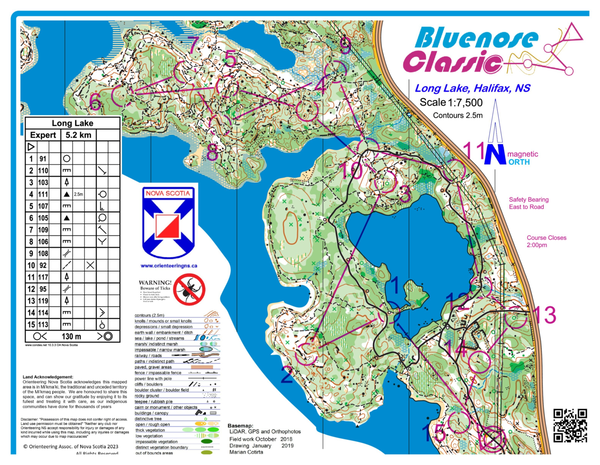 Organizers: Paul Bottomley (Course Planner), Pam James (Controller)
[Information below is accurate as of October 2, 2023 - check back prior to the event as details are subject to change].
The Bluenose Classic serves as our Provincial Champship event - but still offers courses at all levels, including a course for beginners. Please read the technical difficulty descriptions to choose an appropriate course.
This will be Barebones style event, meaning the approach will be casual in order to minimize the amount of volunteer capacity required, while still providing an enjoyable event for orienteers.
---
The Venue:
Long Lake is a 5,180 acre Provincial Park with lakes and 5kms of groomed (crushed gravel) trails as well as rough trails winding through the park. The terrain includes runnable woods, marshy areas, rocky contours and some areas with thicker undergrowth.
---
The Courses:
Point to Point
To complete any of the courses participants must visit a series of control points in the order shown on the map provided. Maps will be provided at the start which will be staggered to space competitors and limit following.
Rather than using age classes this year, we will be offering five skill-based courses to choose from, with awards for the top junior (<21) and senior (21+) aged competitors. Participants may self-select the age/gender category they feel is most appropriate.
Beginner course: Technical Difficulty (TD) 1. Typically follows marked and easy to follow trails to controls on or near trail for the easiest navigation and shortest distance to cover. Basic map following required.
Novice course: TD 2. Typically follows trails or distinct line features. Some simple route choices may be required. Slightly more challenge than Beginner course, with some longer legs.
Intermediate course: TD3. Requires route choice along trails while also using map features and basic compass skills to find controls located on or just off trails with typically clear features nearby that ease navigation.
Advanced course: TD4. Will tackle the entire map on trail and off, using route choices through more difficult terrain, streams forests and all; good navigation skills required. (Similar to TD5 but shorter and less physically challenging).
Expert/Elite course: TD5. Complex route choices, detailed terrain. Requires good rough and precision navigation, as well as physical stamina.
A beginner's clinic may be offered. Let us know via a message to the email address below if you are interested, and we can provide some form of instruction, if not a formal clinic. Please check in at 10am if you require instruction.
---
Registration:
Prior to participating in their first event, all participants must have completed the Orienteering NS registration form and the Orienteering Canada waiver provided at the following link. Once completed for your first event, you are done for the year.
Once membership and waiver are completed, register for courses by selecting the appropriate course button on this page.
Please ensure you register via these links by midnight Thursday, Oct 19, 2023 to ensure a map is printed for you.
On-site check-in will take place from 10:00 to 10:45 am. Again, please ensure you have completed membership/waiver in advance (see above).
Check in at the registration table by 10:45 at the latest on event day to take care of payment if necessary and to let us know you've arrived.
Last minute registration: This can be done on site, but we typically only have a few extra maps because we didn't know you were coming... Also, pre-registration allows the on-site details to move more quickly.
---
VOLUNTEERS would be appreciated for a few tasks associated with the event (e.g. Beginner clinic, registration, control pickup). Please see https://volunteersignup.org/B4TXD to sign up.
---
Snacks: A small post race treat will be available, but participants should bring their own water if needed.
---
Parking:
Parking area is at the location pinned below. Registration table will be near by.
---
Washrooms:
There are park washroom facilities on site adjacent to the parking area.
---
Weather:
We run rain, snow or shine. Local thunder will typically be accommodated by a short delay. That said any weather involving a Hurricane or Tropical Storm coming straight over will result in a reschedule.
---
Schedule:
10:00 Registration Opens
10:15 Beginner Clinic (if required)
10:45 Safety Brief
11:00 am (Staggered Starts)
1:30 pm Course Closure
Start will be nearby the registration table.
---
Entry Fees:
The following are the fees for this event (pre-registered), add $5 for day-of registrations:
How to Pay:
In advance (preferred):
By Electronic funds transfer to the following email: nsorienteering@gmail.com
In person:
For this event we will be trialing Square contactless and chip payment.
Cash is still an option; a payment container will be available. Please bring correct change.
---
Questions:
Please email valleyorienteering@outlook.com
Where can I get some of that cool Orienteering Kit before the event? Visit the O-Store!
---
Directions:
Event is in Long Lake Provincial Park, Halifax, NS.
Registration and Start/Finish will be at the pinned location shown in the map below.
---
Location