OANS - Bluenose Classic (Barebones Style) - Irishmans
October 22nd 2022 11:00am
Organizers: Troy Smith (Event Director), Mark Sypher (Controller), Pam James (Course Planner)
Map: Irishmans

INFORMATION BELOW CURRENT AS OF October 7, 2022 - Please check back for more details.
AVOC will be hosting the Bluenose Classic Middle distance race October 22, 2022
ALL ARE WELCOME, even if this is listed as the BC (Bluenose Classic) Nova Scotia Championships with the different age groups. Come one come all!!

In an effort to reduce waste, please bring your own water.
REMINDER - If this is your first event in 2022, please complete the required annual membership and waiver forms online in advance. This will save time and paper at registration.
VOLUNTEERS would be appreciated for a few tasks associated with the event (e.g. Beginner clinic, registration, control pickup). Please sign up here.
---
This will be Barebones style event, meaning the approach will be casual in order to minimize the amount of volunteer capacity required, while still providing an enjoyable event for orienteers. This approach was coined by Adrian Zissos and Mark Gibbard - you can read more about the Barebones concept here. The most important aspect of Barebones orienteering is this:
No Complaining - The Barebones concept of "no complaining" is front and centre. This sport is hard to organize and it takes so much time to put on orienteering events. Please show a pile of gratitude to the organizers. Please don't complain. This goes for all the orienteering events you go to, not just Barebones!
---
Beginner Instruction - will be offered. Please let us know if you are interested, and arrive at 10am to register. Instruction will take place at 10:15.
Course Type: Course Type: Middle Distance. Point-to-point. A technical forest course, where controls are visited in numerical order. This event is based on 'A' meet standards, meaning the event will have a full range of age classes available. Please ensure you check the technical difficulty descriptions for your age class; you may run either your age class or any Open course if your age class is not suitable.

Registration:
You must have a 2022 Orienteering Canada waiver and membership form on file to participate in this event. These can be filled out online here, . If you have already completed these forms in 2022, there is no need to do another one. If you reside outside of NS, you need to be registered with a home club. (Waiver only for those registered with a club outside Canada).
Please follow all municipal, provincial and federal health guidelines while participating.
Please ensure you register on this website by midnight, Thursday, October 20, 2022 to guarantee a map and to make check-in quick and easy for all participants. All participants (even pre-registered) are required to check in at the event.
On-site check-in will take place from 10:00-10:45 am.
*Mandatory Safety Briefing to occur at 10:45am.
Please ensure you have completed membership/waiver in advance (see above).
Limited same day registration is possible, but dependent on map availability.
Start:

Saturday, October 22, 11:00 am
Course closure will be at 2:00pm.
Entry Fees: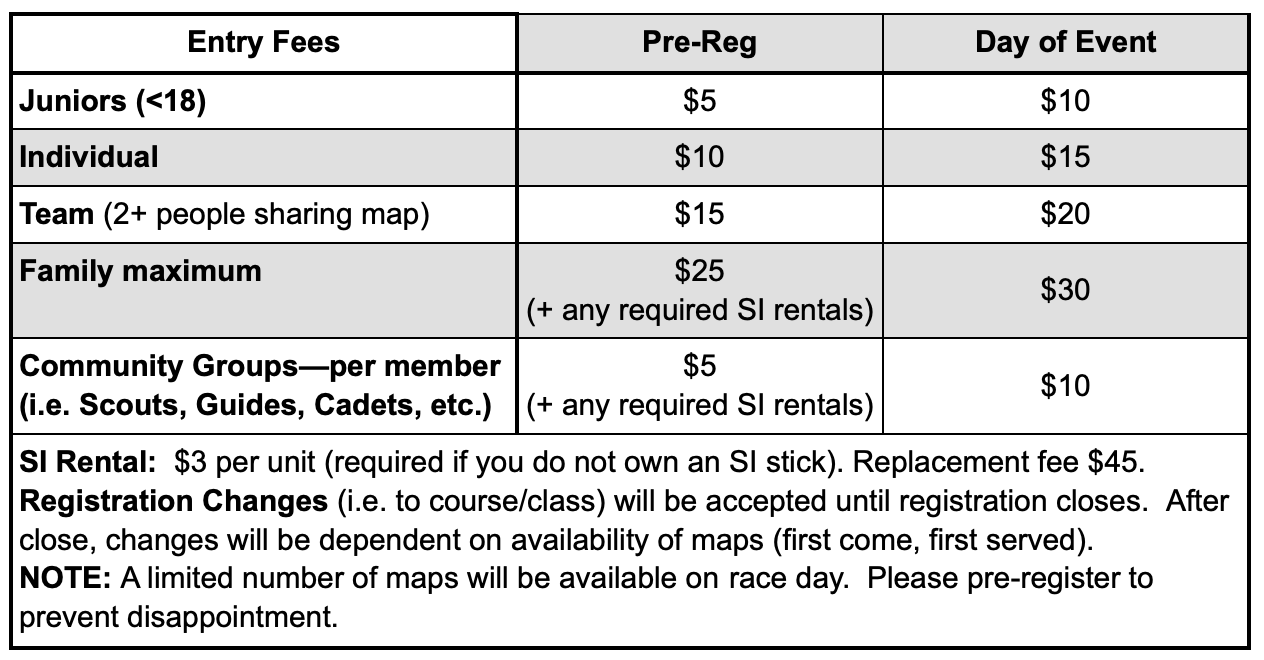 How to Pay:
In advance: By Electronic funds transfer to the following email: valleyorienteering@outlook.com
In person: A payment container will be available, please bring correct change.
Directions: Near Windsor NS take exit 5 off the 101, head east on the 14 to Irishmans road (dirt) and turn right, after approximately 700m turn left into the the Irishmans recreational site.
Questions: valleyorienteering@outlook.com
Courses:
(Note - gender diverse participants are welcome to register in open categories or the gender class in which they identify. All identifications of gender identity or expression by participants are believed to be made in good faith and do not require further disclosure or documentation.)
---
Location