Bluenose Classic - Kentville Gorge (11-11:45am registration/check-in; 12pm starts begin)
October 16th 2021 12:00pm
Organizers: Jim Blanchard (Controller), Cheryl Smith (Event Director), William Jagger (Event Director)
Course Planner: Bob Kaill. (We are excited to have Bob designing our courses from his home in Sweden, and joining us in October to set them!)
LATE REGISTRATIONS can be completed via email until 5pm today. Afterwards, please register on-site. (Pending map availability)
Public Health regulations are changing regularly. Please be sure to familiarize yourself with all COVID protocols below and ensure you have completed your annual REGISTRATION AND WAIVER (Waiver only for those registered with a club outside NS) and your COVID HEALTH DECLARATION (day of the event). Current regulations dictate that participants over the age of 12 will need to provide proof of vaccination in order to participate.
*Safety Briefing to occur at 1145am, followed by walk to start (allow for approximately 10mins to get to the start).
THIS INFORMATION IS CURRENT AS OF OCTOBER 15, 2021 - CHECK BACK PRIOR TO THE EVENT FOR ANY CHANGES.
Pre-registration: Please pre-register by Oct 12/21 at midnight using this website or via email to ValleyOrienteering@outlook.com
Event day registration/check-in: 11:00-11:45am. Be sure to allow time to complete waivers if you have not completed and/or printed ahead of time). Event day registrations are subject to a surcharge of $5 per person.
Fee Structure: ONS Standard Fees (see below):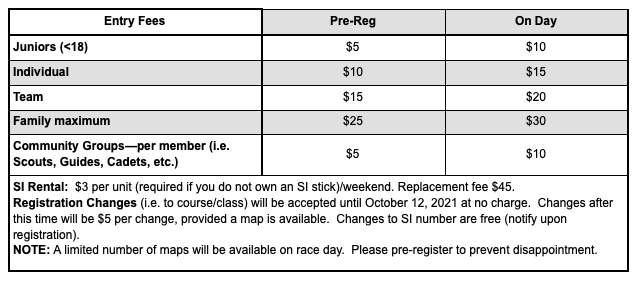 Payment: via electronic funds transfer to ValleyOrienteering@outlook.com; please include "Bluenose" and the participants covered by the fees. Cash payments can be made on the event day; please bring exact change.
Beginner Clinic: We will provide instruction for those who would like some from 11:15-11:45am. Please register in advance and arrive to complete COVID declaration/provide vaccination proof between 10:45 and 11:15. This clinic should prepare you to complete Course 1 (or the "Score O" event).
Starts: Staggered starts will begin at 12:00noon (no assigned start times; last start 1:00pm).
Course Closure: 3:00pm
Course Type: Middle Distance. Point-to-point. A technical forest course, where controls are visited in numerical order. This event is based on 'A' meet standards, meaning the event will have a full range of age classes available. Please ensure you check the technical difficulty descriptions for your age class; you may run either your age class or any Open course if your age class is not suitable.
Terrain: The terrain is a mix of very open deciduous woods combined with a mix of thick vegetation in a few areas with dead fall in other sections. Terrain has two steep gullies with the entire course on the side of a hill although it does not seem so once on the top. The whole area is a mixture of trails mainly from recent mountain biking trails some of which were specifically constructed. There are a number of small bridge constructions as well as jumps. The mountain bike trails in some sections do not join up neatly because of slightly different routes taken by the bikers. The original old trails are well laid out and very easy to follow. There is a definite lack of rock and cliff features.
Categories (for point to point courses):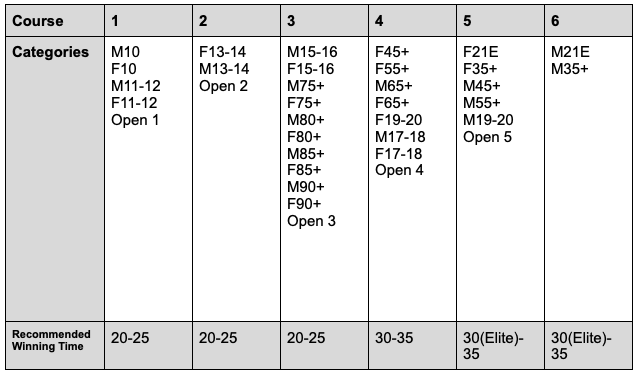 SCORE O: A "Score" event will also be offered. Participants will have 60mins to visit as many controls as they wish.
Map: Kentville Gorge, Jim Blanchard (2021), 1:5000. NOTE: Although this will be a middle distance style event, the map itself uses ISSprOM standards (The set of symbols and features associated with Sprint maps). Scale is subject to change and will be confirmed the week prior to the event.
Map Sample:

Symbol Set: